Classic French Cooking Spoon: Slotted
Regular price
$25.00
Sale price
$20.00
Unit price
per
Sale
Sold out
This classic French spoon is one of the most versatile utensils in the kitchen. From sautéing and stirring to serving dishes that need a bit of straining, it's the only slotted cooking spoon you'll need. In the Ennis Park kitchen, we find we rarely use much else. With its organic natural look and feel, it's a joy to cook with. Finished with a natural, allergy-safe, food-grade oil. Made to endure daily use for years to come.
In the small rural community of Olivehill, Tennessee (population 675), Joseph and a few neighbors make rolling pins, biscuit cutters, bowls, utensils, and other kitchen essentials that are works of "functional art." True to the intention, his work is beautiful, timeless, and upscale, but ready for down home cooking.
Note: Due to the nature of Ambrosia Maple and handmade products, each spoon has its own unique grain pattern and exact size varies from product to product.
* Ambrosia Maple is a gorgeous wood with distinctive grain patterns. The Ambrosia beetle burrows its way through the tree, creating streaks of color, variation, and sometimes occasional tiny burrow holes unique to each piece of wood.
Handmade on a farm in Tennessee, USA
Share
Dimensions

14" x 3" (at the widest point of the ladle)
Material and Care

Ambrosia maple, black walnut, or maple. Due to the nature of Ambrosia Maple and handmade products, each spoon has its own unique grain pattern and exact size varies from product to product.

Hand wash with warm water and unscented soap if needed. Wood products are not dishwasher safe. Regularly treat with our recommended wood wax to keep them smooth and moisturized.


Shipping & Packaging

Shipping is always free for orders over $100 (domestic US). A $9 flat rate applies otherwise.

We use 100% compostable and recyclable packing supplies— paper (in multiple forms) being the most common. Apart from the clear protective sleeves for our art prints, we never use plastic.
Returns

Undamaged/unused products may be returned within 14 days of purchase for a full refund on the original payment method. 

Some products – due to final clearance, weight, or fragility – are not eligible for return (will be noted in the product description).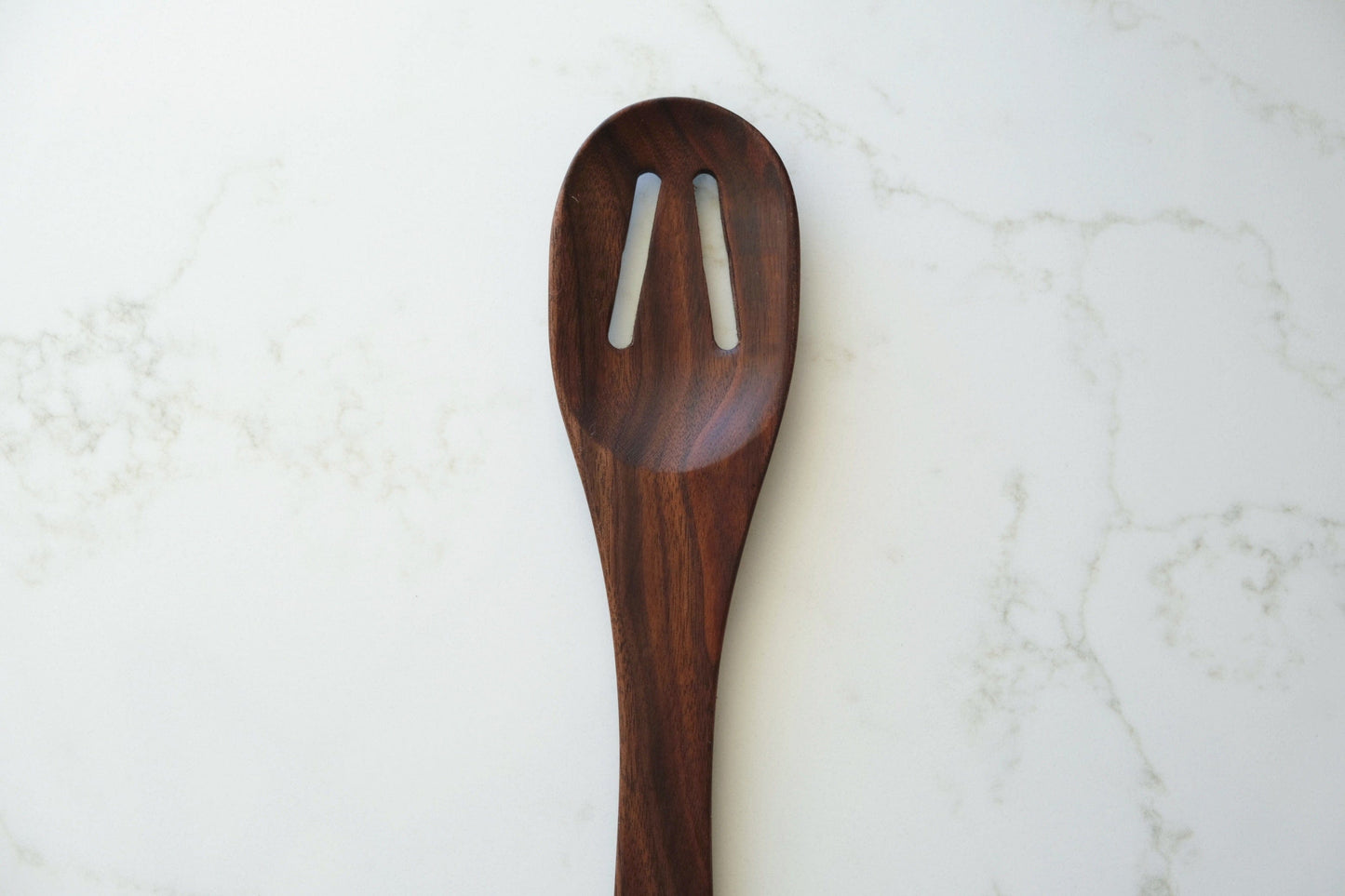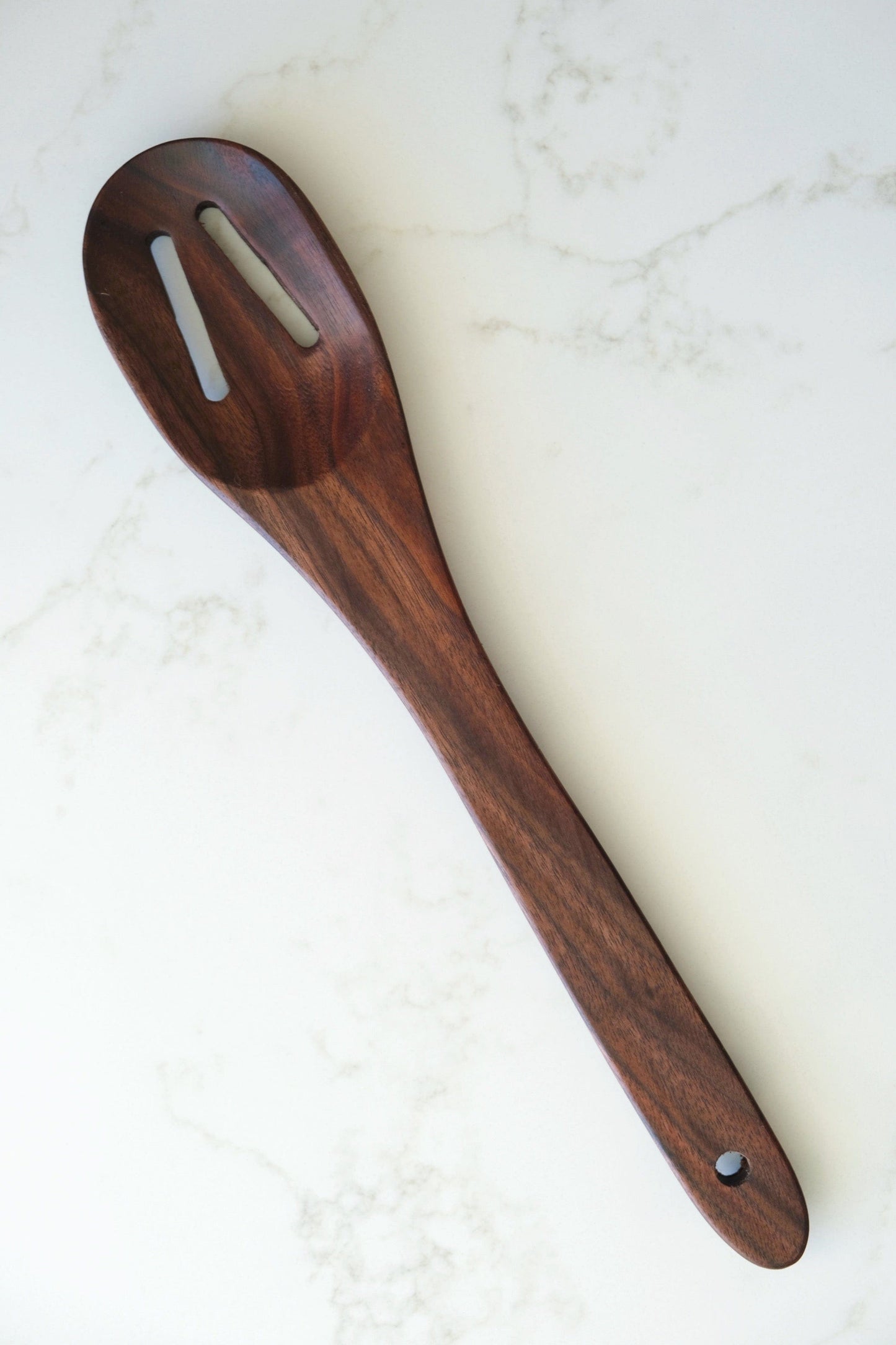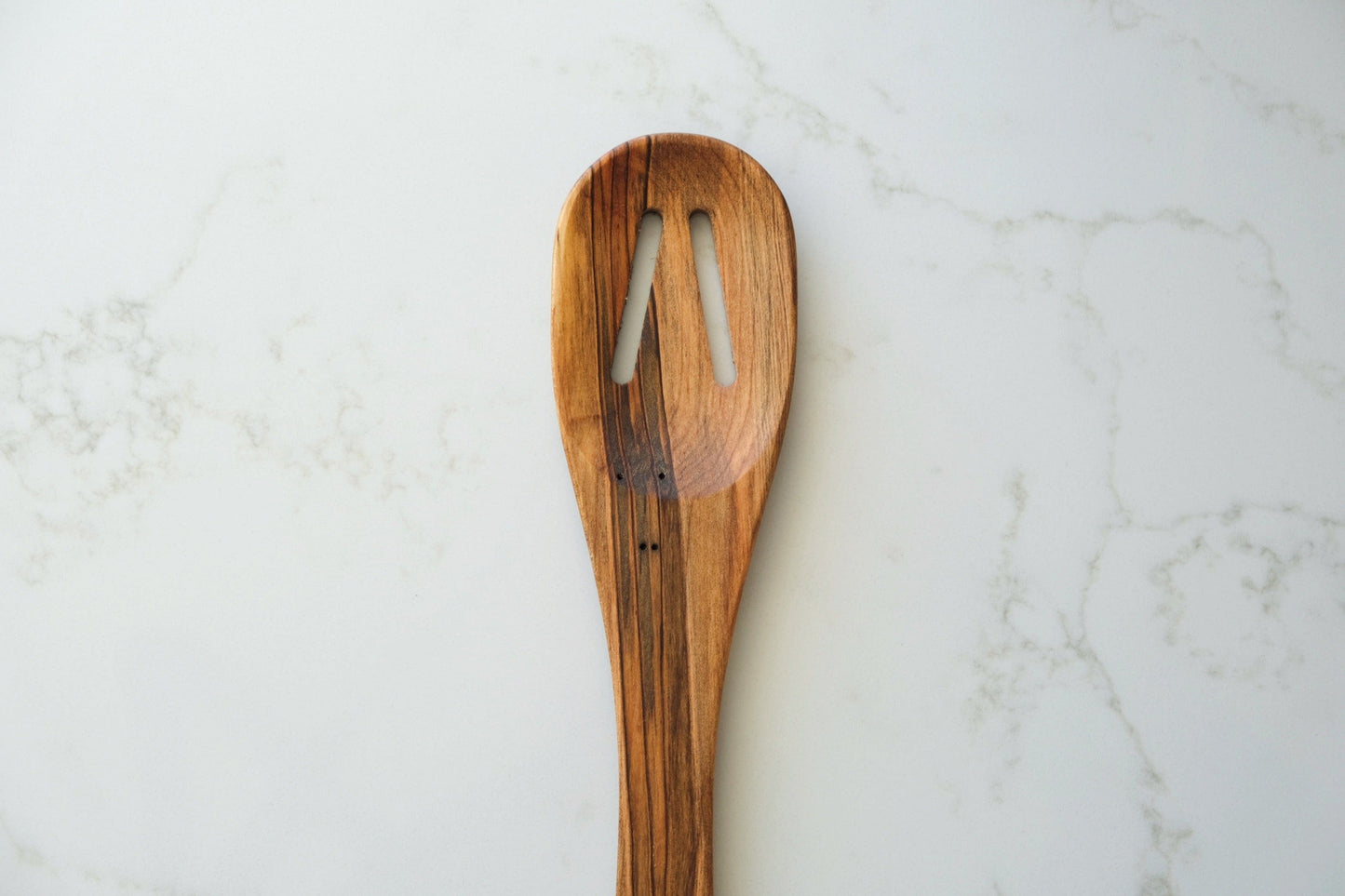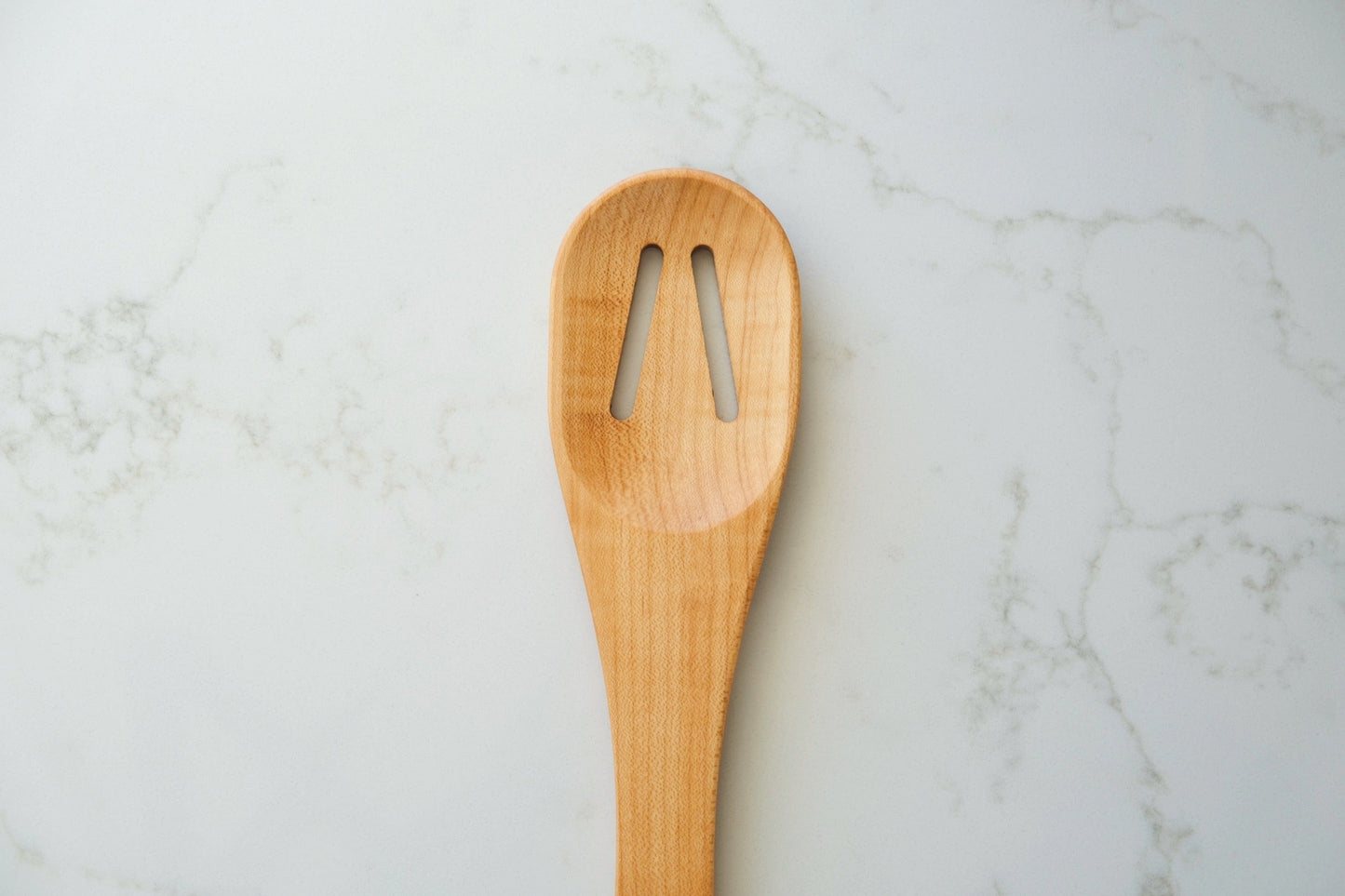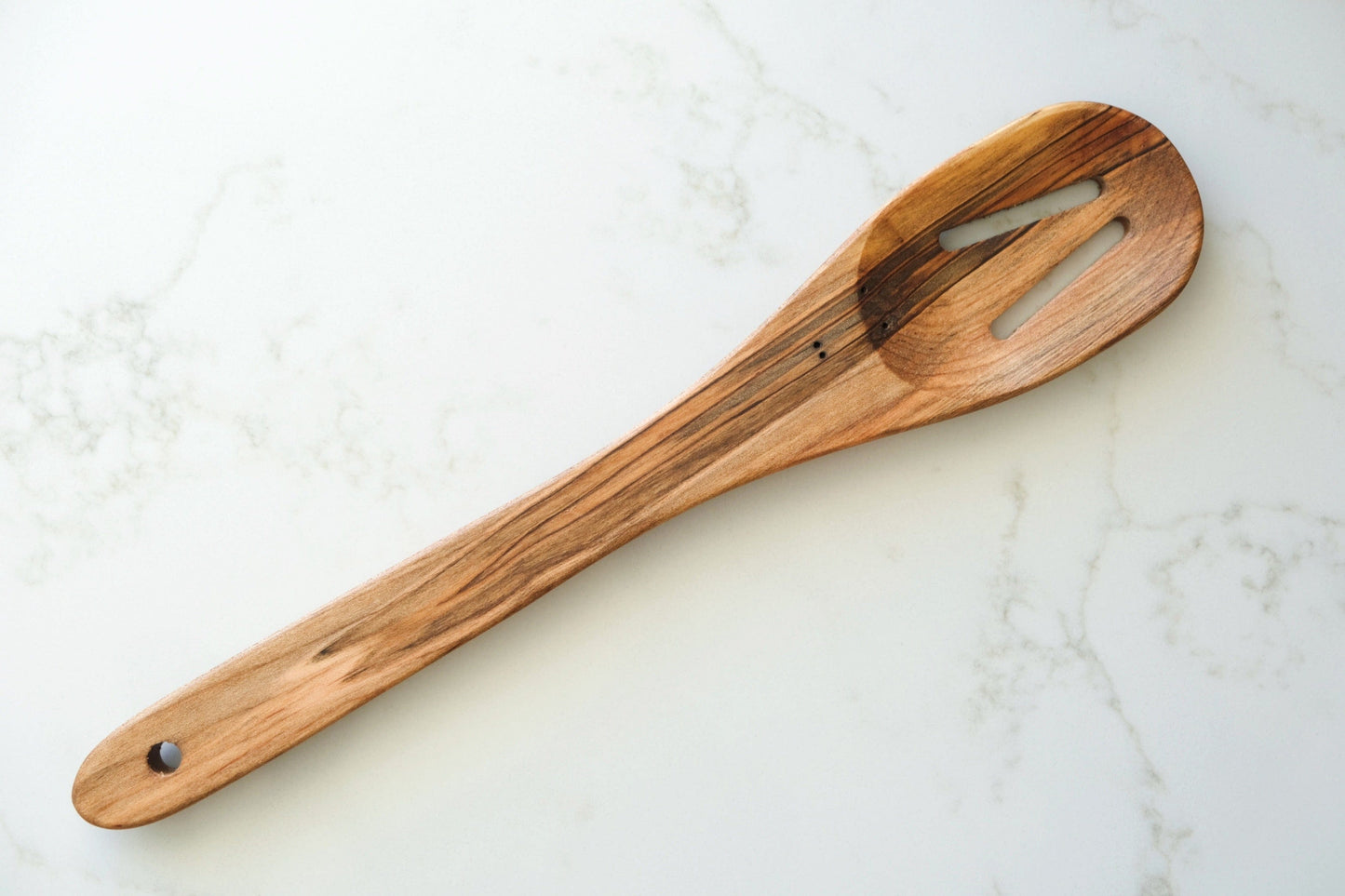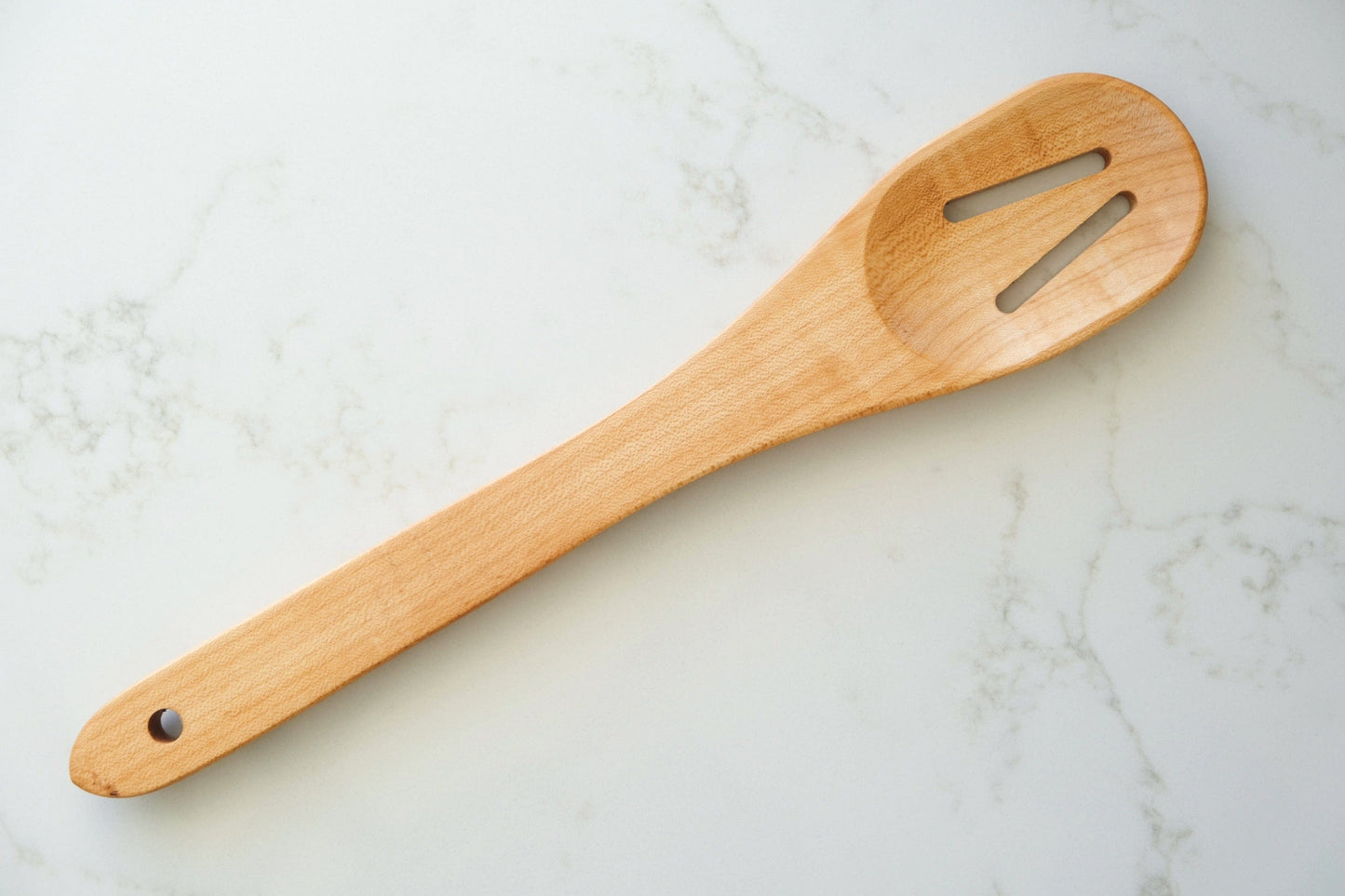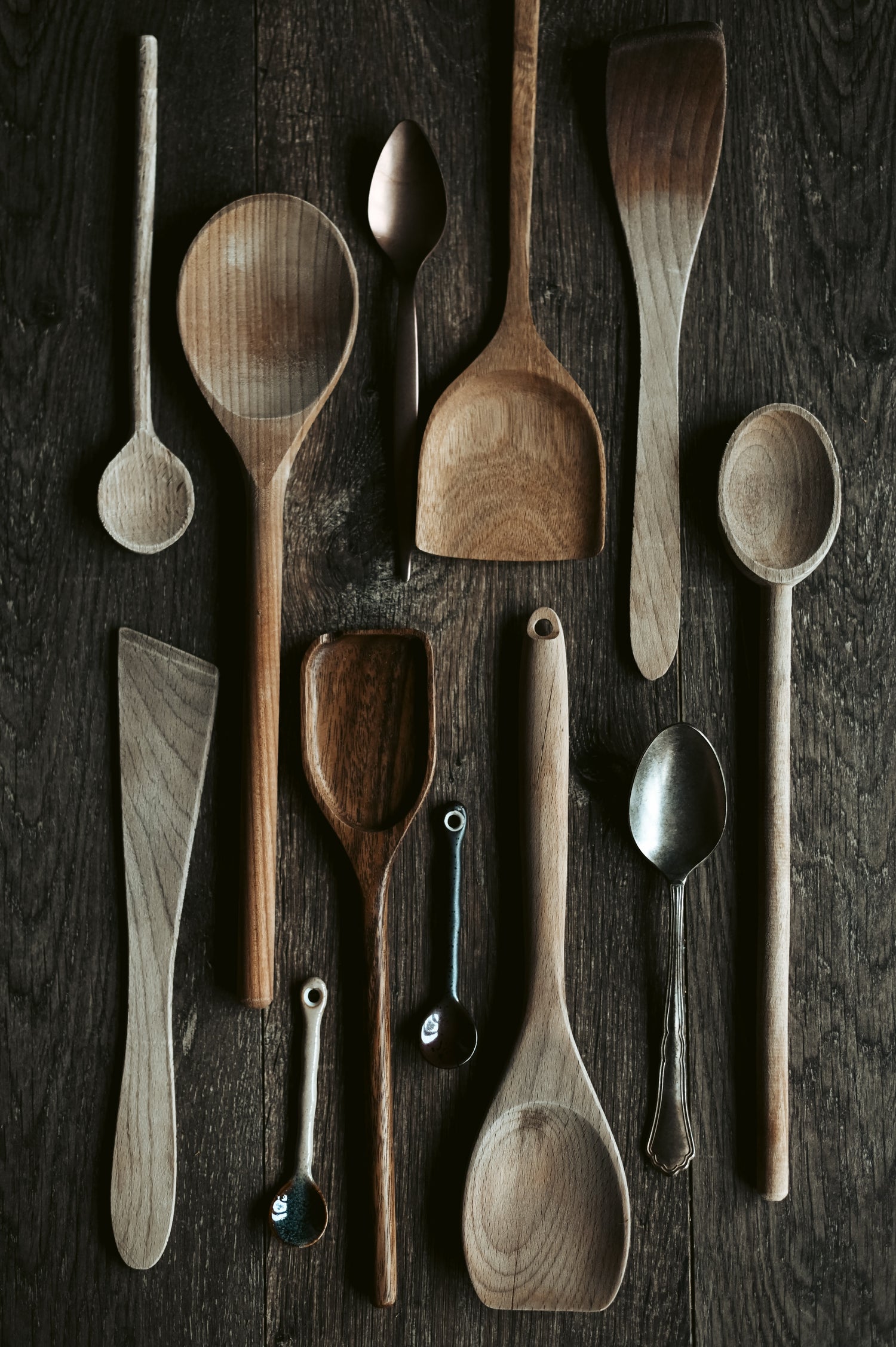 The case for wooden cooking utensils.
Wooden kitchen utensils have been used for centuries and are still preferred by chefs and homecooks alike. Cooking with wooden spoons, spatulas and salad servers are more than just pretty accents in a crock next to the stove. When it comes to cooking, they far outrival the alternatives. If you aren't familiar with what makes wooden kitchen tools better than metal or plastic, we'll give you more than a few reasons to try them out: 
Won't scratch your cookware: wooden cooking utensils are the most gentle option when it comes to protecting your nonstick pans, or any cookware for that matter. 
Best for health and flavor: they won't leach harmful chemicals into your food (unlike plastic) and wood doesn't react with acids or leave a metallic taste like metal tools typically do. 
Durability: when properly cared for (see our FAQs) wooden utensils can last for generations. Plastic breaks easily and tends to melt if left too close to the stove. 
Environmentally friendly: wood is natural, renewable (when sustainably harvested like all of our products), and biodegradable.